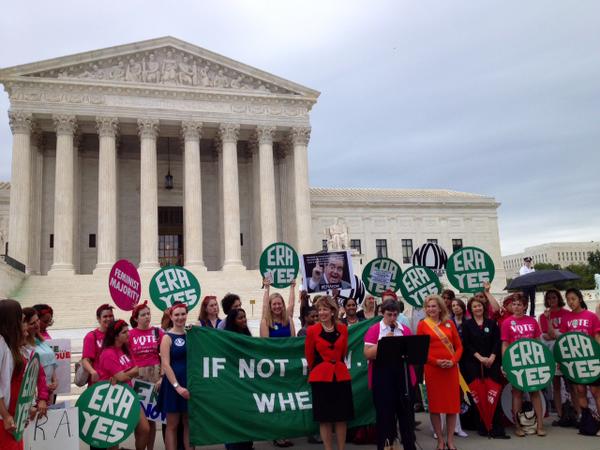 Representatives Jackie Speier and Carolyn Maloney in front of the Supreme Court this morning – "still fighting to get women into the Constitution 91 years after the ERA was introduced."
Now, more than ever, we need a constitutional amendment to protect women from gender discrimination and decisions like Hobby Lobby.
Watch:
===
AMERICA HAS HAD ENOUGH OF A SMALL PERCENTAGE OF PEOPLE CONTROLLING THE MAJORITY OF OUR POLICIES.  WE NEED YOUR HELP TO ENSURE THAT OUR POLITICIANS ARE UP TO THE CHALLENGE OF GOVERNING AND REPRESENTING THE PEOPLE, NOT THE SPECIAL INTEREST GROUPS.  YOUR CONTRIBUTIONS WILL HELP ENSURE THAT WE HAVE THE RESOURCES WE NEED TO REACH VOTERS AND MOBILIZE SUPPORT FOR OUR MOVEMENT.
JUSTIFY MY VOTE WAS STARTED BY TWO VOLUNTEERS IN APRIL 2014. TIRED OF BIG MONEY AND CORPORATE INTERESTS CONTROLLING OUR ELECTED OFFICIALS, JMV HAS QUICKLY BECOME A NATIONWIDE GRASSROOTS MOVEMENT ENCOURAGING VOTERS TO HOLD THEIR POLITICIANS ACCOUNTABLE. JUSTIFY MY VOTE HOPES TO BE THE VEHICLE THROUGH WHICH AMERICANS, OF ALL WALKS OF LIFE, WILL HAVE THEIR VOICES HEARD IN WASHINGTON. EVERY DAY, THOUSANDS MORE PEOPLE ARE JOINING THIS MOVEMENT, TELLING US WHO WE SHOULD KEEP AN EYE ON, AND SHOWING OUR ELECTED OFFICIALS THAT WE ARE WATCHING THEM….CLOSELY.
JUSTIFY MY VOTE IS AN INDEPENDENT POLITICAL ACTION COMMITTEE TO BE REGISTERED WITH THE FEDERAL ELECTION COMMISSION. JUSTIFY MY VOTE'S SPENDING IS INDEPENDENT, AND WE DO NOT MAKE CONTRIBUTIONS TO, OR COORDINATE OUR SPENDING WITH, ANY CANDIDATES OR POLITICAL PARTIES.